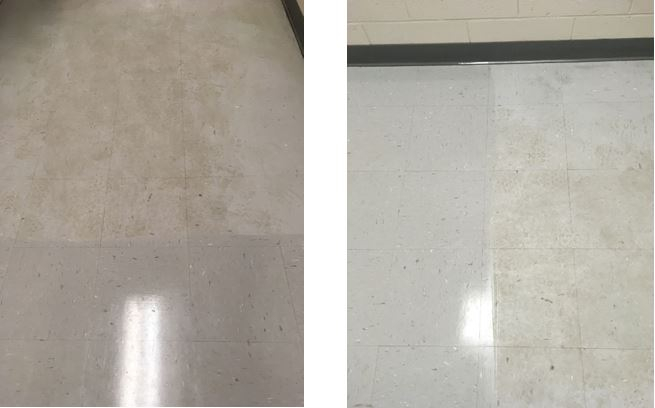 How a Strip and Wax Brought Life Back to a Dull and Dirty Floor
A large equipment manufacturer in Tiffin, Ohio hired Clean Team as their janitorial service provider.
Within the first few weeks, Clean Team performed a strip and wax of the customer's vinyl ceramic tile (VCT) to bring the shine back to the floors. Clean Team has a strong team of floor technicians who specialize in all floor care ranging from strip & wax, burnish, buff, top-scrub and carpet cleaning.
Clean Team stripped and waxed all of the VCT hallways, bathrooms, locker rooms, and cafeteria. The customer was very satisfied with the results. See the pictures below of the difference between the VCT floor before and after the strip & wax. Due to the large size of the floor, Clean Team performed the strip and wax over the course of a few nights. As you can see, a strip and wax brings the life back to a VCT floor.
This manufacturer in Tiffin, OH has a lot of dirt dragged through their building from their workers. Overtime, the dirt works its way into the wax on the floor and the it becomes more difficult to clean even with daily mopping. The stripping process removes all of the preexisting wax from the floor which removes the dirt as well. Fresh wax is then reapplied to the VCT floor in multiple coats delivering the clean and shiny look our customers desire.