Complete Facility Maintenance Cleaning Services for Commercial Facilities and Buildings
Common Questions Prospective Clients Ask About Clean Team's Commercial Janitorial Services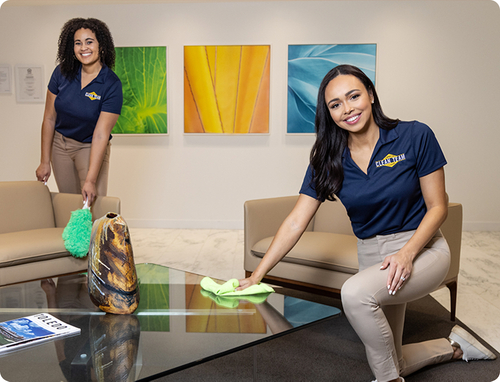 1. What makes Clean Team different?
We run a professional company. If you're tired of getting an answering machine when issues arise or not having your phone calls returned in a timely manner, or not returned at all. If your current sales rep show up in jeans and a t-shirt and looks like they just woke up, than we will knock your socks off. We are a professional janitorial services company with an emphasis on professional.
2. How do you keep an industry leading retention rate?
We have a great client retention rate. We look for partners not sales. Each commercial cleaning account has a dedicated branch manager that is responsible for quality assurance with management and sales.
3. Do you use your own employees?
Yes, all team members are background checked and employees of Clean Team.
4. Are you insured and bonded?
Yes, we are insured and bonded. We also have a great BWC safety record and are recognized in the industry year after year.
5. What is the procedure if I do have a request?
We can communicate with you any way you prefer. We have many customers that like to e-mail, some prefer to call into the office or a branch manager directly and some even text. We will work with whatever style you like to communicate in. Our Branch Managers communicate with clients via phone, email or text, whichever you prefer.
6. Is the same person going to clean or will I get a new person each day?
Yes, we like to have the same person cleaning your facility. If someone is sick or on vacation we will have someone cross trained on the cleaning at your particular building. We train every team member the same way and our equipment in the same at every building we clean. So bottom line is, if by chance someone does fill in for your regular cleaning associate, you the customer will not notice a change in the service level.