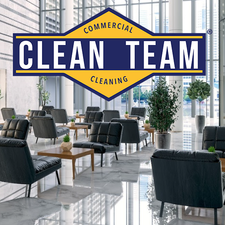 Premier Commercial Cleaning Services in Cincinnati, Ohio
Clean Team brings commercial cleaning excellence to Cincinnati's corporate world. Our dedication to superior business cleaning services ensures your workspace not only shines but also maintains a professional and hygienic environment.
Discover the Clean Team Difference in Cincinnati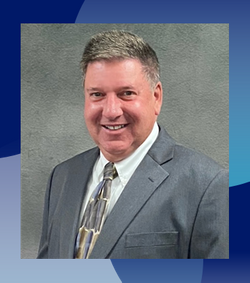 General Manager - Lyle Kandell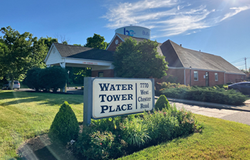 ​7770 West Chester Rd, Suite 250, West Chester, OH 45069

Commercial Cleaning Near The Following Cities:

Blue Ash, Centerville, Cincinnati, Dayton, Fairborn, Fairfield, Huber Heights, Kenwood, Lebanon, Loveland, Middletown, Milford, Montgomery, Northbrook, North College Hill, Northgate, Norwood, Sharonville, Tipp City, Trenton, ​ Troy, Vandalia, White Oak, Covington (KY), Newport (KY)
Highlights of Our Commercial Cleaning Services
We serve clients ranging from 100-10,000 employees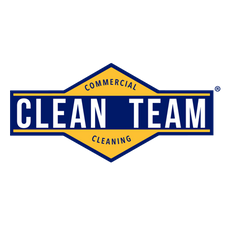 Our Customized Commercial Cleaning Services Include
Lobbies: First impressions count. Our team ensures your lobby reflects the professionalism of your business through meticulous cleaning and maintenance.
Offices: Our commercial office cleaning services focus on creating a productive and healthy workspace for your team.
Conference Areas: For areas where important decisions are made, our cleaning services ensure a spotless and inviting environment.
Board Rooms: The hub of executive decision-making, our cleaning services ensure that your board rooms are not only clean but also present an ambiance of professionalism and precision.
Break Areas: These communal spaces are vital for employee relaxation and rejuvenation. We ensure they are immaculately maintained, promoting health and well-being.
Common Spaces: High-traffic areas require special attention. Our team ensures these spaces are welcoming and hygienic, enhancing the overall experience of your facility.
Buffing: Our buffing services bring a renewed shine to your floors, reflecting your commitment to quality and attention to detail.
Window Washing: Clear windows are not just about the view outside; they speak volumes about your business standards. Our window washing services ensure a streak-free, clear perspective.
Floor Mat Service: We take care of your floor mats, ensuring they are clean and functional, serving as the first line of defense against dirt and debris.

Carpet Cleaning: Our carpet cleaning services extend the life of your carpets and improve indoor air quality, making your workspace safer and more pleasant.
Hard Wood Floor Care: Hardwood floors require specialized care. Our team uses the proven techniques and products to maintain their elegance and durability.
Tile and Marble Floor Care: Tiles and marble demand specific cleaning methods. Our expertise ensures these surfaces are cleaned without damage, preserving their beauty.
Stripping: Our stripping services remove old finishes and prepare floors for new treatments, ensuring longevity and aesthetic appeal.
Sealing and Waxing: Protecting your floors is as important as cleaning them. Our sealing and waxing services provide a protective layer, enhancing appearance and durability.
Day Porter Services: We offer day porter services to ensure ongoing maintenance and cleanliness throughout the day, adapting to your business's dynamic needs.
Odor Control: A fresh-smelling environment is vital. Our odor control services ensure that your spaces remain pleasant and always inviting.
Restroom Disinfection: Restrooms are critical for health and hygiene. Our comprehensive disinfection services ensure these spaces are sanitary and safe for use.
Clean Team is a Customer Service Company with a Focus on Cleaning
5 Commitments to Keeping Our Customers
Our 25 years of experience in commercial cleaning in Cincinnati has taught us the importance of never missing a day of service, continually training our associates, offering flexible scheduling, ensuring quality control through building inspections, and responding quickly to customer concerns. Our commitment to these principles has made us a leader in commercial janitorial services.
Clean Team Cincinnati/Dayton is right here to ensure your business is clean and safe.

We are much more than a cleaning company but rather seek to build long term relationships with our clients to ensure your expectations are met.

We promise to not miss service and our team of trained professionals will make sure they deliver outstanding results each and everyday.
Clean Team Delivers Top Quality Professional Cleaning Services for Cincinnati Businesses
At Clean Team, we understand that top-quality commercial cleaning services are vital for the success of your Cincinnati business. Our services are not just about maintaining cleanliness; they play a crucial role in safeguarding the health and safety of your customers and employees, which in turn impacts how customers perceive your business. Since 1996, Clean Team has led the way in providing exceptional janitorial services and office cleaning to diverse businesses in Cincinnati, Montgomery, Covington, and surrounding areas. Our commitment to quality, reliability, and flexibility sets us apart as one of the premier cleaning companies in the region.
Understanding the unique needs of each business, we collaborate closely with our clients to create tailored cleaning and disinfecting plans, ensuring that every aspect of their commercial space is immaculately maintained. Our focus on rigorous training and quality assurance guarantees consistently superior janitorial services, surpassing expectations and maintaining our impeccable service record. Experience the difference with Clean Team - a company that others just can't compare to.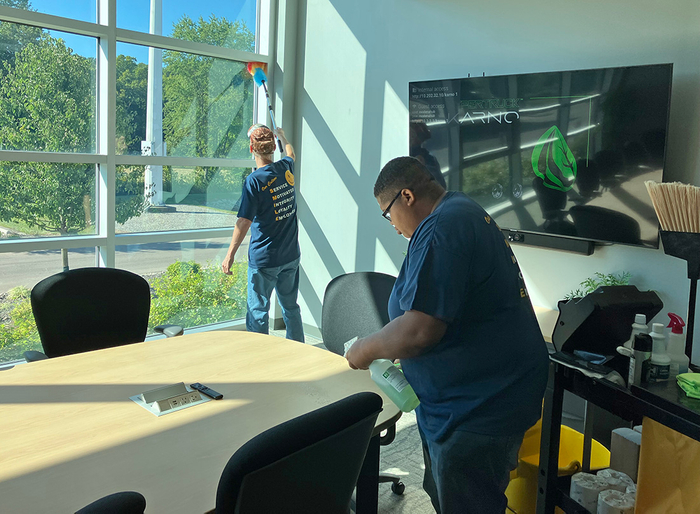 Ensuring a Germ-Free Environment: Our Approach to Commercial Cleaning
In commercial spaces, the presence of harmful germs is a significant concern. Spaces like restaurants, offices, and medical facilities are particularly susceptible to bacteria such as Salmonella, Campylobacter, Listeria, E. coli, and Staphylococcus (Staph), among others. These bacteria can cause serious health issues ranging from food poisoning to skin infections and respiratory problems​​.
At Clean Team, we utilize a comprehensive range of cleaning supplies and products specifically designed for commercial environments, ensuring your workspace is not only clean but also hygienic and safe. Our arsenal includes powerful vacuums for deep cleaning of carpets, specialized mops and buckets for effective floor cleaning, microfiber cloths for detailed surface cleaning, and industrial scrubbers for large, high-traffic areas. For disinfection, we employ a variety of cleaning products categorized as detergents, acids, abrasives, and degreasers. These products are chosen for their effectiveness in breaking down dirt, removing stubborn stains, and killing germs on various surfaces​​.
Our approach combines these advanced tools with our expert knowledge of commercial cleaning to combat the spread of germs effectively. We ensure that every area, from the front lobby to the restrooms and kitchenettes, is not only visually clean but also sanitized to the highest standards. By choosing Clean Team, you're not just opting for a cleaning service; you're ensuring a healthier, safer environment for everyone who steps into your business premises.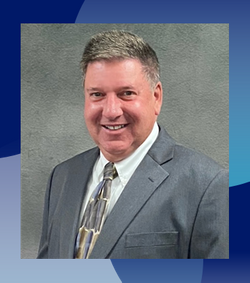 General Manager - Lyle Kandell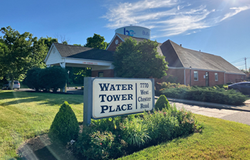 ​7770 West Chester Rd, Suite 250, West Chester, OH 45069

Commercial Cleaning Near The Following Cities:

Cincinnati, Dayton, Blue Ash, Montgomery, North College Hill, Northbrook, Norwood, White Oak, Covington (KY), Newport (KY)
Take Care of Your Team Members and They Will Take Care of the Customer
At Clean Team, we believe in taking care of our team members. This approach ensures they are motivated and equipped to provide the highest level of service to our customers. A happy team means a clean, productive workplace for our clients.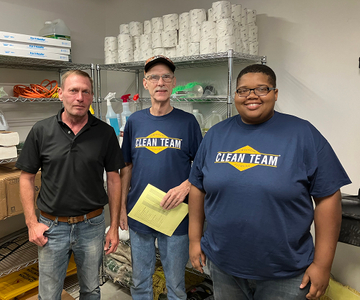 Sending in the "A" team on a start-up account and having some fun getting it done!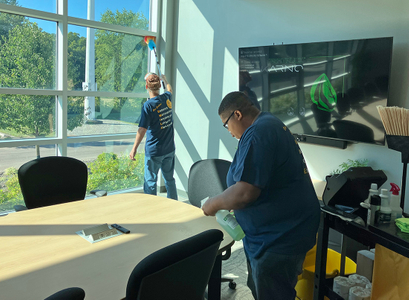 Cincinnati branch cleaning a building.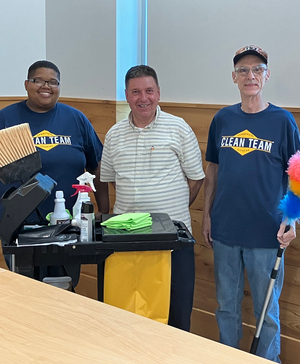 Preparing for a customer's day time cleaning.
Our Cincinnati Office Provides Commercial Cleaning Services to the Following Counties
Butler County

Campbell County (KY)

Clermont County

Hamilton County

Kenton County (KY)

Warren County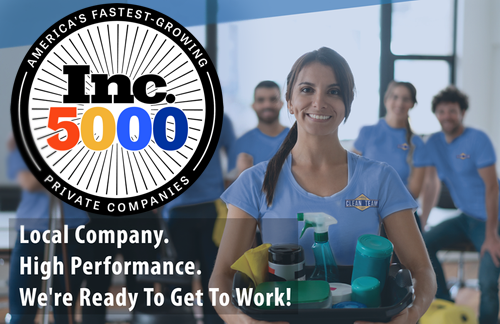 Clean Team Is the Commercial Cleaning Company Near You
When searching for 'Cincinnati Ohio Professional Cleaning Services Near Me' or 'Cincy Professional Cleaning Services Near Me', Clean Team is ready and available. We service all of Cincinnati, ensuring that a Clean Team branch is always near you, ready to meet your commercial cleaning needs.
Our Cincinnati office Provides Professional Cleaning Services To the following zip codes
45202

45205

45206

45207

45209

45208

45211

45212

45213

45214

45215

45216

45217

45218

45219

45220

45223

45224

45225

45226

45227

45229

45230

45231

45232

45233

45236

45237

45239

45240

45241

45242

45238

45204

45243

45245

45246

45247

45248

45244

45203

45251

45252

45255