Large Enough to Take on Any Facility, Small Enough to Care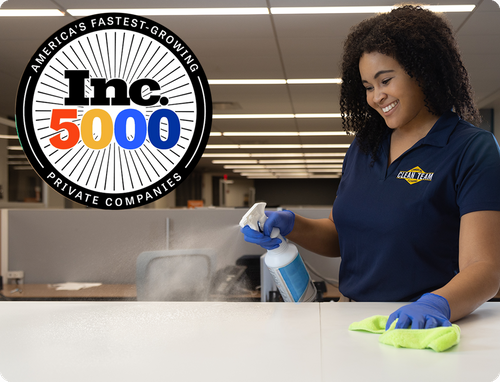 YOUR Local commercial janitorial services company
Clean Team is a leading commercial janitorial company headquartered in the Toledo, Ohio area.
We have offices in the following states: Indiana, Michigan, New Jersey, New Mexico, New York, Ohio, Pennsylvania and Texas. We provide commercial cleaning services in Albuquerque, Battle Creek, Buffalo, Cincinnati, Cleveland, Columbus, Detroit, El Paso, Evansville, Findlay, Fort Wayne, Fremont, Grand Rapids, Indianapolis, Lansing, North Jersey, Saginaw, Toledo, Traverse City, Youngstown and outlying areas of those cities.
Clean Team prides itself on consistently exceeding customer expectations and holds a steady track record of never missing a day of service. We are able to customize a program to meet the unique needs of your business. We offer professional cleaning services, carpet and floor care, by trained employees.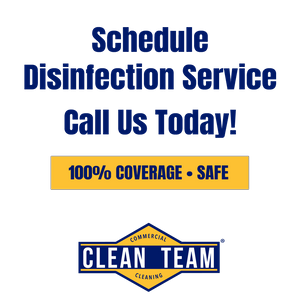 Up-to-Date Commercial Disinfection Services
Clean Team uses disinfectants that are on the EPA's 'List N'. These include:
Husky 802 Disinfectant (EPA Reg. 10324-167)
Husky 892 Arena Plus Disinfectant (EPA reg. 6836-365)
Husky 800 Neutral Disinfectant Cleaner (EPA Reg. 47371-131)
Husky 805 Neutral 128 (EPA Reg. 47371-130)
Husky 891 Arena Disinfectant (EPA Reg. NSF A1, D1)
Four of these disinfectants offer a dwell time of just 60 seconds to inactivate the Sars-CoV-2 virus. We are monitoring new strains of the virus to make sure our disinfectants remain highly effective options for our clients.
Clean Team also offers electrostatic spraying services for more effective disinfectant application. Our trained professional cleaning team will disinfect all surfaces using a rapid, uniform application of fast-acting chemicals to allow for exceptional coverage in a fraction of the time - using chemicals that boast kill times up to 10 times faster than competitive products.
At Clean Team we take great pride in our work, and strive to meet and exceed our clients' expectations in commercial cleaning services. We take specific measures to ensure that we're providing the highest quality janitorial service.
Quality Control
All of our employees are extensively trained using the Tell, Show, Do, Review method before they begin cleaning in your building. Each of our employees inspects the cleaned areas before leaving the work site. As added assurance, our supervisors and managers also provide a double-check of the area. Furthermore, each customer's building receives a formal inspection by a site manager on a monthly basis.
Customer Service
When you call our office, you will speak to an actual person. We respond quickly by providing the essential information to our cleaners, supervisors, managers, and office staff.
Client Retention
In order to completely satisfy our clients' needs and expectations, Clean Team strives to build relationships with customers. We understand that the needs of our clients change over time. Clear communication is our way of ensuring that we can adapt our service to our client's changing needs, thereby retaining them as satisfied customers. We are the cleaning contractor for the people!
Local Employees
Clean Team hires local employees for commercial cleaning services.
Smart Service Backed by Dedicated People
The 1-2-3 Clean Team Advantage
1. Products and Services Lifting Your Business to New Levels of Success
We create innovative solutions for our customers' facility management needs through trained personnel, quality products, and consistent service. With a long-standing tradition of hard-work, integrity, and friendliness, we give your business the Clean Team Advantage: Smart Service Backed by Dedicated People.
2. Building Partnerships through Customer Retention
The foundation of our business model is hiring outstanding employees and continually recognizing their achievements. Our on-site management is proactive within this retention-focused business model through on-going training, routine inspections, and client accountability.
As a result, Clean Team is an industry leader in customer retention. Our goal is to service to our customers' facilities today, tomorrow, and into the future. We have built our business around a singular focus: Customer Retention.
3. Consistent Service is Why Our Customers Recommend Clean Team
Clean Team's dedication to consistent janitorial service can lift your business to new levels of success.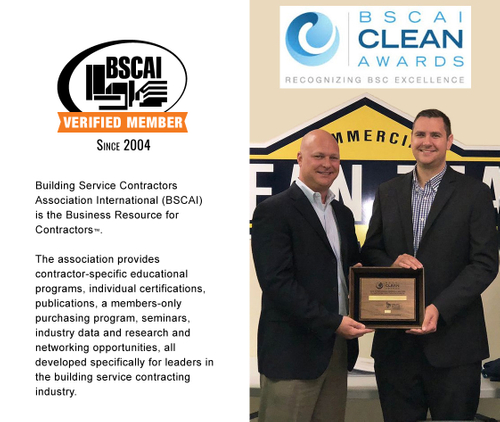 Proud to be Awarded BSCAI's Safety Award
As part of BSCAI's on-going effort to promote safety throughout the association and industry, BSCAI invites entries for its Safety Awards Competition.
Clean Team accepted a safety award at this years Building Service Contractor Association (BSCAI) annual convention.
As in previous years, BSCAI's Safety Awards will be given to the companies with the best safety records, and plaques will be presented to winners at the annual convention.
Clean Team Newsletter
Company information, employee appreciation, industry news, fun facts, recipes, new products & more. Click to learn more!