We are Hiring - Join the Clean Team Family
At Clean Team, employee satisfaction is a priority, and management works hard to find and retain the best people. In fact, many employees have over 15 years of service with the Clean Team family. This is because our employees are highly valued. From thank you notes to recognition lunches and employee appreciation parties, Clean Team knows that we are only as good as our employees.
As Clean Team continues to grow, Bob, the owner, never forgets the company's humble beginnings and has a deep appreciation for Clean Team's employees.
Therefore, Clean Team focuses on hiring the right people, treating them with respect, rewarding their achievements, and giving them the tools they need to safely perform their jobs.
Frequently Asked Questions About Job Hiring Opportunities & Positions Available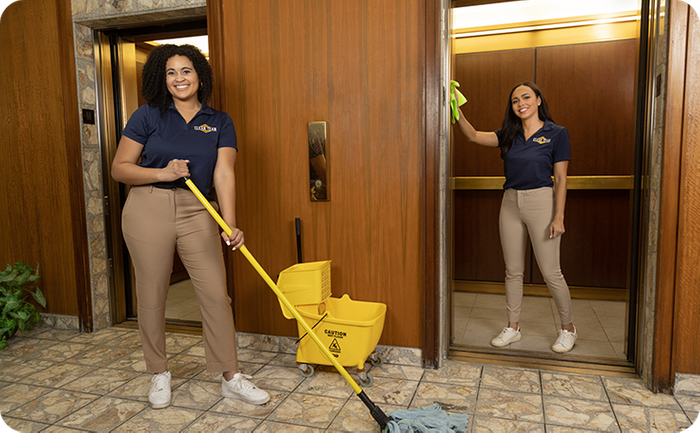 Q. Full-time or part-time?
A. Most of our cleaning positions are part time. Cleaning is a physical job and we find that most people enjoy cleaning for 3-4 hours to earn additional income. We do have day porter, team lead, supervisor and management positions that are full time. We try to find the best situation for qualified candidates.
Q. Pay rate?
Entry level cleaning positions usually start out at minimum wage and move up depending on the type of cleaning or account you would be servicing.
Q. Common facilities team members work at?
A. Office, Banks, Medical, Manufacturing, and Schools. We do our best to put you in a facility that you would be most comfortable cleaning.
Q. Team environment or alone?
A. Some people like to work in a team environment and some people enjoy the peace and quiet of working alone. If you are a qualified candidate, we will give you options to choose from.
Q. How far from my house?
A. We do our best to find you an account that is within 4 miles of your home or day job.
Q. Do I need experience?
A. If you can clean your house, we can teach you to clean a commercial building. We have an outstanding onboard and training program that will turn you into a pro in no time!
Q. Training?
A. Yes, and it's considered some of the best in the industry.
Q. Uniforms?
A. All clean team members will receive logoed shirts.
Q. Pay weekly or monthly?
A. We pay every other week. We encourage direct deposit so you can receive your pay check faster.
Q. Employee or 1099 Sub-Contractor?
A. You would be an employee. If the idea of owning your own cleaning business excites you, please visit our sister company IntegriServ Cleaning Systems @ IntegriServcleaningsystems.com to learn how we can help you start your own part time or full-time cleaning company.
Q. Room for advancement?
A. We are a fast growing company we a need for great and talented people. If you have the skills, work ethic and drive, you will have endless opportunities with us.