Janitorial Services
Clean Team offers a wide range of Janitorial services to fit your cleaning needs!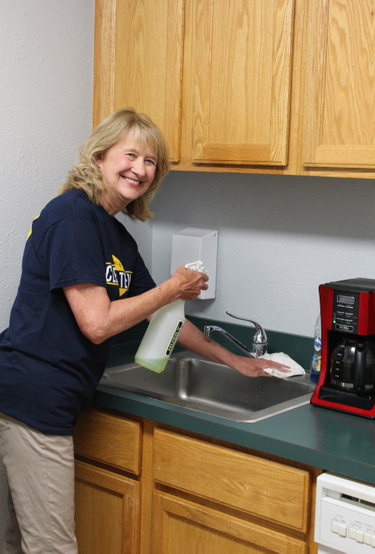 Considering how many hours each week you and your employees may spend in the office, it is extremely important to ensure it is a healthy and safe work environment that is also inviting and friendly to customers. At Clean Team, we have the expertise and equipment to handle a variety of jobs at nearly any facility!
While many business owners choose to hire janitorial staff internally to keep the office clean, outsourcing the work to our team can save you time, money and headaches in the long-run. With local offices and cleaners who are background checked, well-trained and punctual, you won't have to sacrifice the quality of the cleaning work in order to save money. We produce the same great results that an internal janitorial staff can provide at a fraction of the cost, and we even create a custom cleaning strategy to ensure we provide your building the exact clean it needs by disinfecting and sanitizing any and all high touch points. Allowing you to focus on what's most important - running your business.
All janitorial service companies may appear similar until you take a closer look at Clean Team Services. With over 25 years of cleaning knowledge, we know there's more to janitorial services than a mop hitting the floor, a vacuum being turned on, and a squeegee on a window. All of our cleaning products are EPA approved, we have several local branches with local management overseeing each location, all of our employees are W-2 and go through a straight background test. Put your business's best face forward with professional janitorial services from Clean Team to keep your workspace and client reception areas clean and inviting every day of the week! As your one-stop-shop for janitorial services, carpet cleaning, hard floor care, window washing, power washing, consumable products, electrostatic cleaning, floor mating, post construction cleaning, disinfection, sanitation, COVID cleaning and more, we are proud to be the areas leading cleaning professionals. We offer daily scheduled commercial janitorial services for businesses of all sizes. Call to schedule a free cleaning estimate of your facility today, or click here!