Ultra Mist Disinfectant Spray
A sanitation and disinfection of all surfaces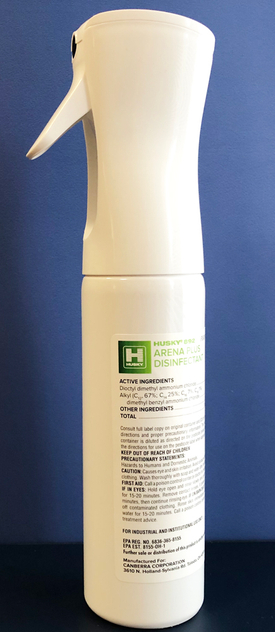 Daily Use Disinfectant
A reusable non-aerosol bottle with 360 degree fine mist dispensing to coat surfaces.
Spray and walk away to disinfect door handles, desks, high touch point areas.
Kills COVID-19
No wiping necessary.
Acts like an aerosol but it's environmentally safe.
Refillable and reusable container.
Customers can use this disinfectant on personal work spaces or in separate departments.
This pressurized unit dispenses a fine mist of disinfectant on surfaces so it's distributed evenly to allow proper dwell time in order to kill COVID-19.
This helps companies fight the spread of germs in between commercial cleanings. The more you disinfect the better, and this gives the customer and their employees a way to help and feel safe.
Use: Spray 6-8 inches from surface. Do not breathe spray mist. Allow to remain wet for up to 5 minutes (for the bacteria and viruses listed on back), then remove excess liquid.
Give us a call at the office 419-537-8770 or your local branch manager to place an order!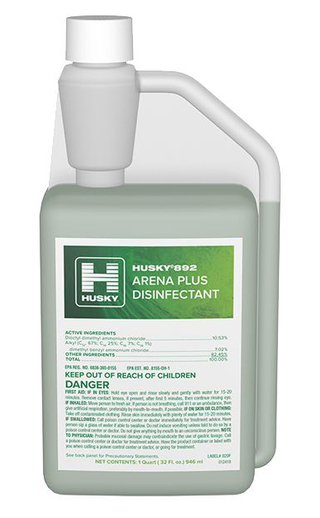 About Husky 892 Arena Plus Disinfectant 
A concentrated, neutral pH formula cleans and disinfects in one step. This disinfectant has both bacteria and virus claims of only 5 minutes (including Norovirus) instead of the traditional 10 minutes dwell times required by most concentrated disinfectants in the market. As a neutral pH cleaner, this formula can be used on a wide range of surfaces including finished floors.
• 2x Wider coverage** on big soft surfaces without over wetting
• Kills cold & flu viruses on hard surfaces*
• Cleans and Disinfects in One Step
• Neutral pH - Use on a wide range of surfaces including floors
• Kills Odor Causing Bacteria
• Effective Disinfectant in Only 5 Minutes
• No Wipe Required on Non-Food Contact Surfaces
• Broad Spectrum Disinfectant
This disinfectant kills both bacteria and virus efficacy in only five minutes on hard, non-porous surfaces including COVID-19. (EPA Registration #6863-365)