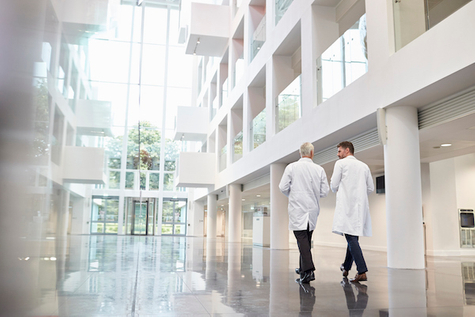 Your trusted medical cleaning service company
When you're looking for medical cleaning services, you know how important it is to find a healthcare cleaning service that you can trust. Your medical cleaning company needs to understand strict healthcare cleaning standards - not only to comply with federal regulations but to keep your patients and staff safe.
At Clean Team, our healthcare cleaning services provide you with a clean that you can trust. You'll know that the areas in which your staff provide healthcare have been cleaned by a properly trained commercial cleaning services team. We know that healthcare cleaning isn't just about making things look clean - it's about cleaning the things we can't see too.
Our professional medical cleaning services cleans according to standards set by:
HCAHPS (Hospital Consumer Assessment of Healthcare Providers and Systems)

HIPPA (Health Insurance Portability and Accountability)

EPA (United States Environmental Protection Agency)

OSHA (Occupational Safety and Health Administration)

CDC (The Centers for Disease Control and Prevention)

AORN (The Association of periOperative Registered Nurses)
Don't let inadequate cleaning put your patients and staff at risk, or damage your facility's reputation of health and healing. Contact Clean Team for an estimate today!
Medical Facility Cleaning Experts 
We understand how important it is for medical office cleaning companies to keep up with changes in research and regulations, and our hospital cleaning company regularly revisits standards set by these organizations to ensure our medical facility cleaning services meet your needs.
As you consider your options for healthcare cleaning companies, be sure you go with a medical office cleaning service that can take care of all your professional cleaning needs. While some commercial cleaning companies specialize in one area of medical facility cleaning, our medical janitorial services cover all aspects of your needs, including cleaning personal protective equipment, cleaning operating rooms, and disinfecting rather than sanitizing to provide the 1% difference in germ-killing that can make or break a positive patient outcome.
When you're searching for a cleaning service for a healthcare facility, go with Clean Team! Our hospital cleaning services know the importance of providing a top-notch cleaning service for medical office, taking care of everything from terminal cleaning to disinfecting patient restrooms. When you choose our janitorial cleaning services, you can rest assured that you've chosen the best of the best when it comes to hospital cleaning contractors. Our priority is not just to provide you with a sparkling clean, welcoming office, but to provide care - we also pride ourselves on keeping you, your staff, and your patients safe. Working in healthcare can be a risky business, and we're here to lower the risk of healthcare-acquired illnesses and infections as much as possible. We offer both hospital janitorial services and dentist office cleaning services - no matter what healthcare services you provide, Clean Team has got you covered.
We have over 23 years of cleaning experience in the medical industry, providing quality service to healthcare facilities of all types:
Hospitals
Infusion centers
Surgical centers
Group practices
Dialysis centers
Clinical laboratories
Office-based surgery centers
Dental facilities
Terminal Cleaning
Walk-in medical centers
Ambulatory care providers
Outpatient surgery facilities
Blood transfusion and donor centers
A clean, healthy environment is essential for the safety and happiness of employees and patients; and that is why we train our cleaning associates on the importance of sterilization and disinfecting, including the prevention of cross contamination, for total overall cleanliness.
Contact us today for more information, or click here for a free quote.