Educational Building Janitorial Services
Experienced, Highest-Quality Cleaning Services
Educational building cleaning services are a specialty of Clean Team
We're a leading regional commercial janitorial company headquartered in Ohio, with offices in Michigan, Indiana, New Jersey and Pennsylvania.
We complete a building analysis and customize a cleaning services plan.
Our professional cleaners service many types of buildings, including all campus facilities – whether private or public – such as:
College Buildings
Technical Institutes
University Buildings
Lecture Halls
Classroom
Common Spaces
General Classrooms
Administrative Offices
Interior Foyers
Lobbies
Department Offices
Dining Halls
Student Centers
Campus Buildings
…and more!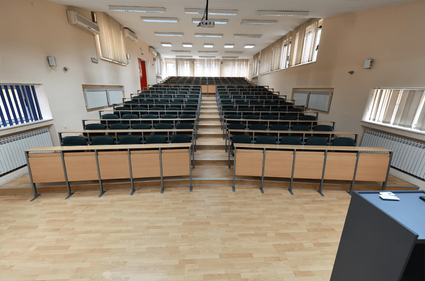 Leading Educational Cleaning Services
Educational Facility Cleaning
Clean Team's reliable staff specializes in providing more than just a "visual" clean for educational facilities.
Clean Team focuses on maintaining a healthy environment:
Disinfecting highly contaminated surfaces such as door knobs, hand rails, water fountain toggles, etc, this attention to detail aids in killing germs and preventing illness
Disinfecting restrooms on a daily basis
Eliminating dust, mildew and mold to improve air quality
Why switch from your in-house services staff?
Clean Team provides cost effective, budget minded, and focus for your cleaning tasks
We use up to date equipment and professional biodegradable chemicals
We provide complete staff management so duties never go undone
Quality services at affordable pricing
Call Today to Maintain a Clean Facility
As the preferred choice among cleaning contractors for area government facilities, Clean Team is dedicated to providing a clean and healthy environment. So don't just ask where to look for cleaning near me, ask where are the best facility cleaning services near me.
Contact us today for your free quote on commercial cleaning services at (419) 537-8770.
Our Services Include:
Restroom Disinfection
Lobbies
Offices
Board Rooms
Break Areas
Buffing
Window Washing
Matting Analysis
Carpet Cleaning
Hard Wood Floor Care
Tile and Marble Floor Care
Stripping
Sealing
Waxing
Buffing
Day Porter Services
Odor Control
Special Event Services
Clean Team is a leading regional commercial janitorial company and service these local areas