Customers Expect Banks & Financial Institutions to Keep it Clean.
If a Bank Can't Take Care of Their Lobby, How Will They Handle My Money?
Serving Ohio, Michigan, Indiana, New Jersey and Pennsylvania with America's Best Financial Cleaning.
We work with credit union managers and bank managers in Ohio, Indiana, New Jersey and Pennsylvania to complete a building analysis and customize a bank or credit union cleaning services plan.
Customers of financial institutions have high expectations. After all, it's their money. And they want to keep it in a financial institution that lives up to the brand image that meets their standard. Sometimes the bar they set can be pretty high. They simply expect lobbies, branches and all customer touch points to be sparkling clean, fresh and safe. So financial institution janitorial services need to be sharp. Especially during the time of Covid-19. They don't always go into the bank, but when they do, they prefer to see things looking bright.
Consistency Counts.
You never know when your best customers are going to come into your bank or credit union. Your bank or credit union cleaning company has to think like a business partner and always have you ready. One great customer can make a big difference. And typically, customers are not prone to excuse your institution when bank janitorial services miss a day or a lobby area here occasionally. With Clean Team, that just doesn't happen. Our bank cleaning services pride themselves on consistently exceeding customer expectations, and we hold a proven track record of never missing a day of service. Never.
From financial headquarters to suburban branches, our bank cleaning company makes sure that every financial institution and location we serve receives the full range of financial institution cleaning services provided by a dedicated team member chosen from our professionally trained and dedicated staff of 800. Someone who is trained to know how important checking their own work is and who is double checked by our regional management teams. Our bank and credit union janitorial services never miss a day. We never miss a spot. Just like the way you run your bank, we know our financial institution cleaning company services must be excellent – and consistent – every day.
Consistency is ensured by daily sign-offs, weekly inspections, and monthly upper management formal walk-through inspections of your facilities using a grading inspection form. We know our financial institution cleaning business.
Clean Team offers the complete range of capabilities to customize an efficient solution to meet the unique needs of your financial facility. No matter the size of your financial institution. Or the number of branches you may have. Our bank cleaning business offers consistent carpet and floor cleaning to keep your walk-in traffic happy.
We also offer many additional advantages that deliver peace of mind:
The responsiveness of localized management always on call via cell phone
The financial strength to provide continuous operating stability
The reassurance of a sense of urgency in every service provided
The consistency of a proven system of quality checks and balances
The advantage of Professional Management that eyes every detail
The reliability of a well-established Culture of Customer Care
We fit your corporate culture and eliminate all of your hassles
No wonder we have built long lasting partnerships with our financial clients who have rewarded us with our 97% customer retention record.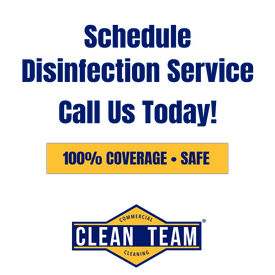 Electrostatic Commercial Disinfection Services Count.
To keep your lobby, consumer waiting areas and touch points spotless and safe during this time of Covid-19, our financial institution disinfecting services use advanced technology to effectively and efficiently clean even the most hard-to-reach surfaces with electrostatic disinfecting fogging. Every bank or credit union cleaning business should be so dedicated.
Our bank and credit union disinfecting services go the extra mile. Electrostatic disinfection fogging is the most effective way to kill any viruses (including COVID-19). Our trained professional cleaning team will apply our bank disinfecting services to all banking surfaces using a rapid, uniform application of a fast-acting chemical mist that provides exceptional coverage in a fraction of the time, but dries rapidly to preserve your facilities, while powerful enough to kill germs and viruses up to 10 times faster than competitive products.
Security Counts.
We understand how much security matters in the financial industry. That's why we take extra steps to protect your assets and your people.
Our entire Clean Team staff is thoroughly vetted, completely insured and bonded
Only authorized and uniformed staff are allowed in your facilities – ever
We have a proven key fob securement system that ensures and maintains secure access at all times and returns all key fobs to security at the end of every work cycle
When you're searching for "financial institution cleaning near me", look no further.
Call For Financial Office Cleaning You Can Count On.
When you're looking for a bank cleaning service near me or credit union cleaning near me, remember that Clean Team has the tools, technology, professional training, and the results you want. Contact us today for your free quote on banks, credit unions and financial institutions cleaning.
Our Services Include:
Restroom Disinfection
Lobbies
Consumer Waiting Areas
Offices
Board Rooms
Break Areas
Buffing
Window Washing
Matting Analysis
Carpet Cleaning
Hard Wood Floor Care
Tile and Marble Floor Care
Stripping
Sealing
Waxing
Buffing
Day Porter Services
Odor Control
Special Event Services
Clean Team is a leading regional commercial janitorial company and service these local areas