Corporate Building Cleaning Services
Corporate Buildings Should Always Look Their Best. We Deliver.
Serving Ohio, Michigan, Indiana, New Jersey and Pennsylvania Class A Offices with First Class Service
We work with area businesses in Ohio, Michigan, Indiana, New Jersey and Pennsylvania to complete a building analysis and customize a bank or credit union cleaning services plan.
For Corporate Facilities, Brand Image Is Everything.
Corporate buildings must always present a sterling image. This is not optional. Guests who influence your business are constantly streaming through your corporate campus. Many are decision-makers. First impressions of your building count – and they are not forgotten. Your Class-A office space must look and feel first class. Always. That's why you need a corporate cleaning company that consistently makes your corporation look great. The bar is always set high. Both guests and office staff expect lobbies, hallways, meeting rooms and touch points to be sparkling clean, fresh and safe. So your company janitorial services and disinfection services need to be sharp. Especially during the time of Covid-19. That's why so many Fortune 500 companies rely on Clean Team for professional cleaning services.
Consistency Is The Key.
At Clean Team, we know what it takes to keep corporate buildings and large facilities looking sharp at all times. We're organized, equipped and staffed to provide the level of excellence that every corporate building requires. Corporate facilities have to meet a higher standard. Whether it is a corporate headquarters, meeting rooms, corporate offices, call centers, multi-tenant office buildings or any other large facility, our cleaning business is designed around you. Large facilities need a large, professional cleaning team and a site manager in place to take care of every detail. We know that proper training, the latest equipment, the guidance of on-site management, and consistent inspection are essential. And we make it happen.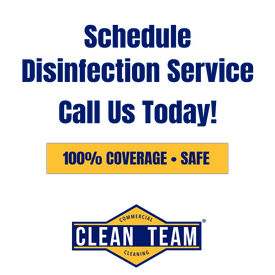 We Make Every Day Exceptional.
At Clean Team, we understand the exceptional level of cleaning expected at corporate buildings. We know that cleaning and disinfecting your facility on a regular schedule is the absolute best way to prevent the spread of germs, bacteria, and viruses – even Covid-19. Clean Team takes great pride in the fact that we have never missed a day of service. Your corporation can rely on our proven team to provide the janitorial services and disinfecting services that your buildings demand each and every day.
A clean, healthy environment is essential for the safety and happiness of your employees and office staff – and your business guests. That is why we train our cleaning associates on the importance and techniques of sterilization and disinfection, including the prevention of cross contamination for total overall cleanliness, and how to achieve it and maintain it daily.
Consistency Counts. Because Quality is a System.
Quality isn't just a talking point at Clean Team. It is a standard that we live and work by. We pride ourselves on delivering the high-quality service that our corporate clients not only need, but demand. Our system of checks and balances is designed to cover every detail:
We begin every day with a "kick-off" meeting where our managers and team leaders discuss each building to be serviced that day to ensure quality service
We don't just clean, we disinfect – which is mission critical for Covid-19
Daily Reviews of our timekeeping software provide complete accountability for every employee
We offer our clients their choice of flexible scheduling to meet every need
Convenience – we offer you a single source for your supplies
Clean Team can professionally strip and wax your floors
All Clean Team members are trained to inspect their area before completion
In addition, our supervisors and managers constantly inspect our work
We schedule daily 4pm management meetings to review all requests to ensure follow up – and customer satisfaction
Call Today For Corporate Office Cleaning To Match Your Image.
As the preferred choice among cleaning contractors for area Fortune 500 companies, Clean Team is dedicated to providing a winning image and a clean and healthy environment for your entire corporate campus. So don't just ask where to look for cleaning near me, ask where are the best corporate cleaning services near me. And remember that Clean Team has the tools, the training, the technology, and most importantly, the proven results your company leadership really wants.
Contact us today for your free quote on your corporate cleaning services at (419) 537-8770.
Our Services Include:
Restroom Disinfection
Lobbies
Offices
Board Rooms
Break Areas
Buffing
Window Washing
Matting Analysis
Carpet Cleaning
Hard Wood Floor Care
Tile and Marble Floor Care
Stripping
Sealing
Waxing
Buffing
Day Porter Services
Odor Control
Special Event Services
Clean Team is a leading regional commercial janitorial company and service these local areas: