Best Warehouse, Distribution Center and Fulfillment Center Cleaning Services
We work with office managers and plant managers in Ohio, Michigan, Indiana, New Jersey and Pennsylvania to complete a facility analysis and customize a commercial cleaning plan.
Warehouse, distribution center and fulfillment center cleaning services present special challenges in today's workplace and Clean Team knows exactly what it takes to ensure a clean, safe, and healthy environment for all of your employees.
Whether you need warehouse cleaning, distribution center cleaning or fulfillment center cleaning, Clean Team is ready to design a customized cleaning program and janitorial services to fit the total needs of any warehouse, distribution and fulfillment facility, including offering day porter shifts and intensive floor scrubbing programs.
Variety of factors to consider
There are a variety of factors to consider when choosing among cleaning companies, but three are crucial:
Safety is number one. Warehouse commercial cleaners must keep this in mind. That's why Clean Team is proud to have been awarded the Bureau of Workers Compensation Safety & Hygiene Award for the 10th consecutive year. We train our employees providing warehouse janitorial services to commit to the safety protocols of both Clean Team and our customer. And we continually inspect our work, so you don't have to.

The second key factor is hiring the right person for your facility. All Clean Team applicants undergo a nationwide criminal background check prior to being hired. Each successful new hire is then interviewed by an experienced hiring manager and trained at the Clean Team Training Facility before receiving specific instruction alongside a manager at your location.

The third factor is Quality. The cleaning of your facility will be frequently inspected by our manager assigned to your geographic area. Some visits are announced, some are not. As your warehouse cleaning company, everything we do ensures that you are receiving the highest level of service. Every day.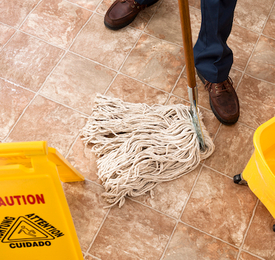 Distribution Center Cleaning Has Never Been More Important!
Distribution centers are more critically important now than ever, thanks to the national increase in online ordering. Commercial vehicles are continuously dropping off loads of materials and employees are constantly interacting with new logistics people coming in to help keep the goods moving. This constant in-and-out keeps dust and dirt stirred up. In this type of environment, employees need their facility to stay clean to be able to safely do their jobs. Distribution center janitorial services have never been more critically important.
To help you and your team keep up with the soaring demands of online purchasing, let us focus on your cleaning! Other distribution center commercial cleaners can't match Clean Team. We'll make sure your distribution center janitorial services run like clockwork so that you are able to run your distribution facilities at peak performance 24/7 for the well-being of your employees, your customers and your business. As your expert distribution center cleaning company, you can count on Clean Team to manage every detail.
Fulfillment Centers Need Complete Coverage.
Fulfillment center commercial cleaners need to keep in mind the central role that fulfillment plays in many modern companies. Products, product information and materials are constantly in transition, moving from one point to temporary storage to the next point in the supply chain. As a result, product material handling can impact the health and well-being of employees to a much greater degree than ever. So, your fulfillment center janitorial services must maintain constant vigilance to make sure that every touchpoint is clean and sanitary. That is the Clean Team difference. As your expert fulfillment center cleaning company, we maintain a 360 view of cleaning that makes sure your team is protected.
Increase Your Cleaning Effectiveness, While Reducing Your Costs.
Clean Team will work with you to customize a warehouse, distribution and fulfillment cleaning schedule to provide efficient cleaning of your facility while minimizing disruption in your operations.
Retaining in-house employees is a very expensive endeavor that includes payroll tax, salary, and benefits (insurance, 401(k), vacation, and sick pay, etc.). Therefore, outsourcing janitorial services can help you control operating costs, while raising the effectiveness of your cleaning.
Additional costs can be saved when Clean Team professional commercial cleaning services and safety management procedure are in place. Lost productivity from health and safety issues cost businesses billions every year. It just makes sense to put Clean Team on your team.
Quality & Technology Counts.
At Clean Team, our tools, technology, and professional training deliver the results you want. Contact us today for your free quote on warehouse, distribution and fulfillment center cleaning.
Our Services Include:
Restroom Disinfection
Lobbies
Offices
Board Rooms
Break Areas
Buffing
Window Washing
Matting Analysis
Carpet Cleaning
Hard Wood Floor Care
Stripping
Sealing
Waxing
Buffing
Day Porter Services
Odor Control
Clean Team is a leading regional commercial janitorial company and service these local areas